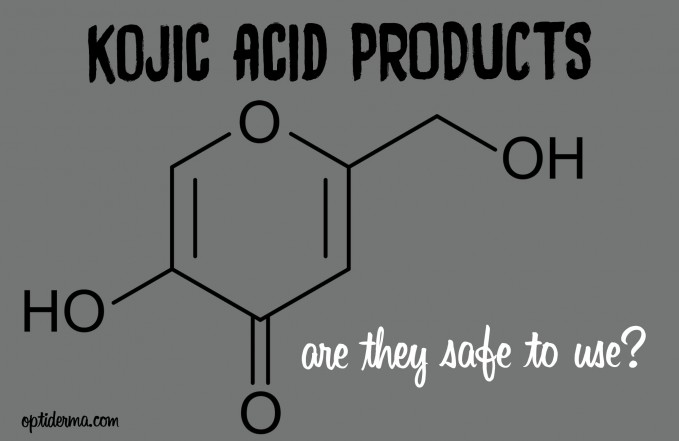 Are you thinking of buying kojic acid products to lighten your skin? Are you wondering if these products are safe to use?
Kojic Acid is a natural acid that is derived from a Japanese species of mushrooms. It has traditionally been used in the production of a number of foods, including miso, soy sauce and sake.
In skin care, kojic acid is used as a skin-lightening agent. But are kojic acid soaps and creams safe to use? 
Studies show that kojic acid is not a cancer causing agent. However, your skin could become highly sensitive if you use kojic acid products on a regular basis. 
Let's see what the studies show and learn about the risks of using kojic acid products.
How does Kojic Acid Work?
Kojic Acid acts as a tyrosinase enzyme inhibitor that reduces the skin's ability to produce and synthesize melanin.
Melanin is what determines the colour pigmentation of the skin. This is why the Kojic Acid can make the area of skin whiter by preventing the synthesis of melanin. Excess melanin comes to the surface and peels off in a few days.
Kojic Acid has been shown to be quite effective at lightening skin. It sometimes takes only a few weeks to see sufficient results. The darker your skin pigmentation, the longer it's going to take to see results.
Watch this video with Dr. Ellen Marmur and Dr. Oz who explain how using soaps and creams containing kojic acid can help you reduce the appearance of brown spots on your skin.
Studies about the safety of kojic acid products
Kojic acid is a natural substance, but does it mean it is safe to use?
The Scientific Committee on Consumer Products (the European regulatory body) has conducted extensive studies of kojic acid products. Reportedly, studies found that kojic acid is not a cancer causing agent – unlike hydroquinone (source).
According to the International Agency for Research on Cancer, kojic acid is not classifiable as to its carcinogenicity to humans (source).
Another study shows that while some animal data suggested tumor promotion and weak carcinogenicity, kojic acid is slowly absorbed into the circulation from human skin and likely would not reach the threshold at which these effects were seen (source).
The Cosmetic Ingredient Review (CIR) Expert Panel also reported that dermal sensitization and skin lightening, would not be seen at use concentrations below 1% in folic acid products; therefore, this ingredient is safe for use in cosmetic products up to that level.
However, taking high doses of kojic acid can be dangerous. Some animal studies have shown high amounts of kojic acid to cause liver, kidney, reproductive, cardiovascular, gastrointestinal and respiratory side effects, and high doses have been shown to be toxic to the brain and nervous system.
What do scientific committees say about it?
According to the Cosmetic Ingredient Review Assessments, it is determined safe for use in cosmetics, subject to concentration or use limitations.
But the Scientific Committee on Consumer Safety (SCCS) adds that kojic acid is unsafe for use on injured or damaged skin.
In a review of 165 kojic acid toxicity studies, the Nonprofit Environmental Working Group (EWG) notes that some studies have indicated that kojic acid causes cell mutation in mammals. But that it is not likely to be a human carcinogen.
According to the EWG, the cosmetics industry has not formed a panel to assess kojic acid's safety in humans, and that further research is needed.
EWG rates the overall hazard of kolic acid as moderate (source). Take a look at the graphic below: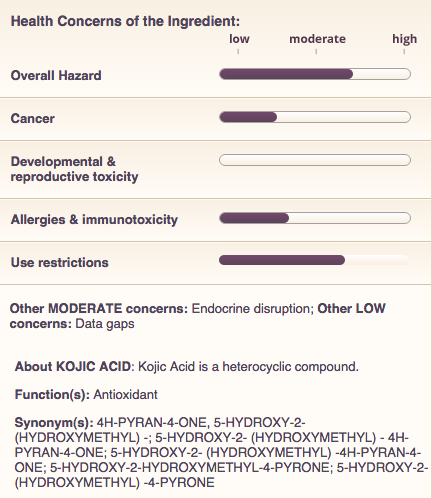 Risk of highly sensitive skin after using kojic acid products
After numerous studies people have stated that their skin had become highly sensitive after using kojic acid for extended periods of time.
Due to these findings manufacturers have now added other ingredients to help counter these effects.
Although the amount of kojic acid in skincare products is usually not enough to trigger irritation, there is still a danger of developing allergic contact dermatitis with continued regular use.
Excessive use of kojic acid products can result in sun damage
Be aware that if you use of kojic acid on a regular basis, it may cause sun damage to the skin.
Melanin protects the skin from harmful UV rays. By reducing the amount in your skin you reduce your natural defence from the sun.
It is important to protect your skin from the sun while using kojic acid.
How to choose kojic acid products?
As explained above, the usual recommended dosage of kojic acid is a maximum concentration of 1%. Most skin lightening products use a concentration closer to 0.2% and add other ingredients to decrease the risks of side effects.
Make sure you read the label to check the concentration of kojic acid. Here's a good kojic acid soap that you can find on Amazon: Koji White.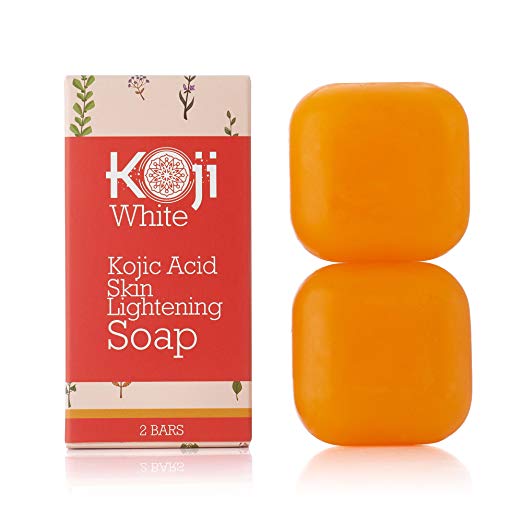 Cautious: Due to the potentially irritating effects of kojic acid as a lightening agent, please be sure to talk to your dermatologist before using these kinds of products.
Are kojic acid soaps effective for skin lightening?