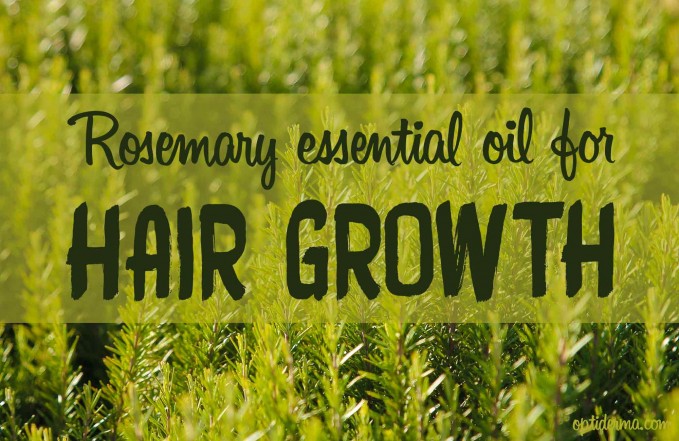 You're not sure what's wrong, but you've heard about a number of conditions that can cause hair loss. Before you panic and start trying out all sorts of remedies, first you need to know what the problem is. The exact cause of hair loss may not be fully understood, but it's usually related to family history, hormonal changes, medical conditions or medications. 
The good news is that there are natural ways to help you deal with hair loss. Have you heard of rosemary oil for hair growth? You may be skeptical, but we'll explain to you why you should try rosemary essential oil for hair growth. Rosemary oil may be the answer to your hair problem!
Why use rosemary oil for hair growth?
For you to understand how rosemary can help get your hair back, it's important that you know what's hidden in its juices. Here are the reasons why rosemary is one of the best remedies for scalp problems and hair loss:
1. Rosemary oil has strong antibacterial properties
Rosemary is packed with antiseptic, antifungal and antibacterial properties. It makes it one of the best remedies for scalp problems, dandruff, psoriasis, dermatitis, all of which can contribute to hair fall.
In fact, as an antibacterial, rosemary is really special because it cleanses the blood and helps control the growth of many pathogenic bacteria without killing the good microflora (beneficial bacteria and yeast) in your body.
2. Rosemary oil helps balance oily skin
An oily scalp can harbor a lot of dust and dirt. It also clogs hair follicles and you don't want that if you want your hair growing.
Rosemary oil prevents this and allows new hair to be formed. For oily skin and scalp, rosemary essential oil is one of the best. 
3. Rosemary oil has antioxidant properties
Rosemary has been shown to have antioxidant properties.
Antioxidants can neutralize harmful particles in the body known as free radicals, which damage cell membranes, tamper with DNA, and even cause cell death.
The antioxidant properties of rosemary oil make it ideal in combating the effects of pollution and the chemicals found in cosmetic products.
4. Rosemary oil increases blood flow
Rosemary is the perfect hair growth remedy simply because it's a stimulant.
Once it's applied to the scalp, rosemary will encourage increased blood flow to the hair follicles.
5. Rosemary oil is anti-inflammatory
A lot of skin and hair problems are caused by inflammation.
Most of the time the inflammation is microscopic and cannot be noticed by the naked eye, but it still causes your hair to fall.
Rosemary oil takes care of this.
6. Rosemary oil is totally natural!
Stop damaging your hair with chemicals! 
Did you know that excessive hot oil hair treatments and permanents can cause inflammation of hair follicles that leads to hair loss?
Mother Nature has a bountiful supply of remedies to most of the health problems that trouble us. 
Essential oils have been used for more than 5000 years as natural medicine and to improve the health of skin, hair and body. 
These healing oils are rapidly growing in popularity because they act as natural medicine without any side effects if they are properly used!
7. It works well for some people, why not give it a try?
Here is a testimonial from Jody who used Majestic Pure rosemary oil
for hair growth:
 I use rosemary in my hair and on my scalp to help improve the quality of my hair. I had chemo in 2004 and my hair has been thin ever since and rosemary is known to stimulate growth and to keep more from falling out. So far it has done both. My hair is starting to grow and I can brush my hair without all my hair coming out in the brush.
Here is another positive review from someone who tried Edens Garden rosemary oil
for hair growth:
I wanted an essential oil that will help in hair growth and reduce split ends. So I decided to try Eden's Rosemary Oil. I added few drops to my shampoo, conditioner, jojoba and olive oil and I have seen lots of improvement in my hair. My hair is visibly softer and I have noticed less hair on my comb whenever I comb my hair. In addition, I love the smell of the rosemary oil on my hair. It mixes well with lavender oil as well. I highly recommend this product
Of course not everybody has good results using rosemary essential oil for hair growth.
Its efficiency will depend on the cause of hair loss, how severe your condition is and how you use rosemary oil.
Now that you know why rosemary essential oil can be a great remedy for hair growth, the next thing you need to know is how to use it!
The Benefits of Peppermint Oil for Hair Loss
How to use rosemary oil for hair growth?
Most of it isn't really complicated and doesn't need you to adopt any unusual rituals before you go to sleep.
Take some Rosemary tea
While topical care for any ailment works quite well, it's even more effective when you add some healthy foods to the treatment.
A poor diet is the cause of many of the disorders that we face today and hair loss is no exception.
The free radicals talked about previously in this article can be dealt with effectively just by drinking rosemary tea since it's a concentration of antioxidants.
Add Rosemary to your shampoo
Four ounces of your regular shampoo mixed with a drop of rosemary oil is all it takes.
Pour it into your palms
Rub it into your scalp for about 4 minutes
Wash off
If you want to, you can also mix it up with other oils like peppermint, lavender and sage, all of which have properties that are beneficial to your hair's healthy growth.
Here is another scalp lotion recipe for combating hair loss.
Massage your scalp daily
Doing this on a daily basis can bring about significant results in just a few months. However, this also depends on the extent of your condition.
Add 3-4 drops of Rosemary oil to another oil of your choice, such as jojoba oil
Rub this to your scalp gently but thoroughly for a few minutes
Let it stay for about 30 minutes
Wash off
Hot oil treatment
This requires you to do a bit more than just rub it in your hair and wait for it to work its magic.
Add 3-4 drops of Rosemary oil to a few table spoons of carrier oil.
Pour it into a glass jar and seal it.
Now place the glass jar in a water bath and wait for it to warm up.
Once the oil is warm enough for your liking, massage it through your hair and use your finger tips to make sure it gets in contact with your scalp.
After you are done with the application, now cover your head with a plastic shower cap and wrap it with a damp towel that is warm.
Switch the towel with another when it cools down. Keep at it for 30-45 minutes then rinse.
Wash your hair with chemical-free shampoo and follow it up with conditioner if you like.
Rosemary essential oil is a great remedy if you are devoted to the regimen. Like lots of natural remedies, It's only as effective as you want it to be!
Caution: Essential oils should be used with extreme caution. Most essential oils should never be used undiluted on the skin. Essential oils can sometimes irritate the skin, especially if you are allergic. You can test for allergies by rubbing the oil into a small patch of skin. If the skin becomes irritated, don't continue to use the oil. Also, most essential oils shouldn't be used while pregnant. Please always consult a doctor or herbalist for proper application of oils.
Saw Palmetto for Hair Loss: A Great Remedy to Increase Hair Growth
If you're looking for other natural remedies than rosemary oil for hair growth, watch the video below. In this video, Dr. Axe goes over the 6 compounds that you should be consuming to balance your hormones and keep your hair full and healthy.