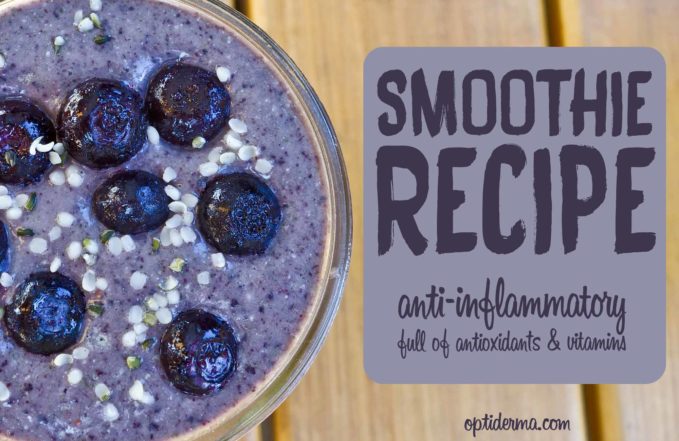 Today, I decided to take care of myself, enjoy the morning sun, and make a delicious smoothy for breakfast to start the day with happiness, energy and clarity.
This smoothie is full of antioxidants from the blueberries, avocado and kale. Did you know that kale is among the most nutrient dense foods on the planet? It's growing in our garden right now; so I thought I would use it to boost the nutritional value of my breakfast.
Let's start with the health benefits of the ingredients included in this blueberry smoothie recipe:
Blueberries
Blueberries have been associated with many health benefits. What I really like about them is that they contain lots of vitamin C, vitamin A, and various phytonutrients.
These nutrients function as powerful antioxidants that help protect cells against free radical damage. They inhibit tumor growth, decrease inflammation in the body and may help ward off or slow several types of cancer.
Blueberries also contain folate, which plays a role in DNA synthesis and repair, thus preventing the formation of cancer cells from mutations in the DNA (source).
Avocado
With its subtle taste and velvety texture, avocado adds a rich creaminess to the smoothie.
In addition to their creaminess, avocados also have incredible health benefits, as they are high in potassium, fiber, heart-healthy fatty acids, and anti-oxidants (source).
They are also known to lower blood pressure and have amazing benefits for skin.
Kale
What about kale? Kale is loaded with all sorts of beneficial compounds.
According to Authority Nutrition (source), a cup of raw kale contains:
Vitamin A: 206% of the RDA (from beta-carotene)
Vitamin K: 684% of the RDA.
Vitamin C: 134% of the RDA.
It also contains good amounts of vitamin B6, manganese, calcium, copper, potassium and magnesium. This is coming with a total of 33 calories, 6 grams of carbs (2 of which are fiber) and 3 grams of protein.
In addition, kale contains very little fat, but a large portion of the fat in it is the omega-3 fatty acid called alpha linolenic acid (the good fat).
Hemp seeds
If you are interested in adding extra protein and healthy fats to your smoothie, organic hemp seeds
are a healthy choice.
You can alternate with organic chia seeds
or flaxseed meal
, which also contain Omega 3. They are all great options if you want your smoothie to have more staying power between meals.
Almond milk
Almond milk is often used as a substitute for individuals who have difficulty digesting dairy or soy. It doesn't contain any lactose nor cholesterol.
It's also rich in vitamins especially vitamin E. It's low in fat and calories compared to other milks, which makes it a great milk substitute for those who would like to lose weight!
Be careful when you choose almond milk though. Lots of brands add sugar, chocolate or vegetable oil. Watch the label carefully to stay away from unwanted ingredients.
Sweeteners
In terms of sweeteners, I add some liquid stevia
because I'm trying to stay away from refined sugar. Also, if you're like me and you follow an anti-candida diet, you're probably aware that sugar feeds the bad yeast. It may also increase inflammation in the body.
If you really want to add sugar, opt for natural sweeteners such as agave syrup, maple syrup or honey.
Does sugar worsen skin inflammation?
the anti-inflammatory blueberry smoothie Recipe
It takes only 10 minutes to prepare this smoothie. 
INGREDIENTS (serves 1):
– 2 cups frozen blueberries
– 1/2 cup fresh kale
– 1/2 avocado
– 2 cups unsweetened almond milk
– 2 tablespoons hemp seeds
– 5 drops of liquid stevia
DIRECTIONS:
– Place the frozen berries in the blender and let them thaw for about 10 minutes.
– Add the kale, avocado, almond milk, seeds and stevia. Blend on high until smooth.
– Top with extra berries and seeds if desired.
This is a beautiful smoothie to enjoy anytime!

10 Healthy Breakfast Bowl Ideas: Start The Day with a Wholesome Breakfast