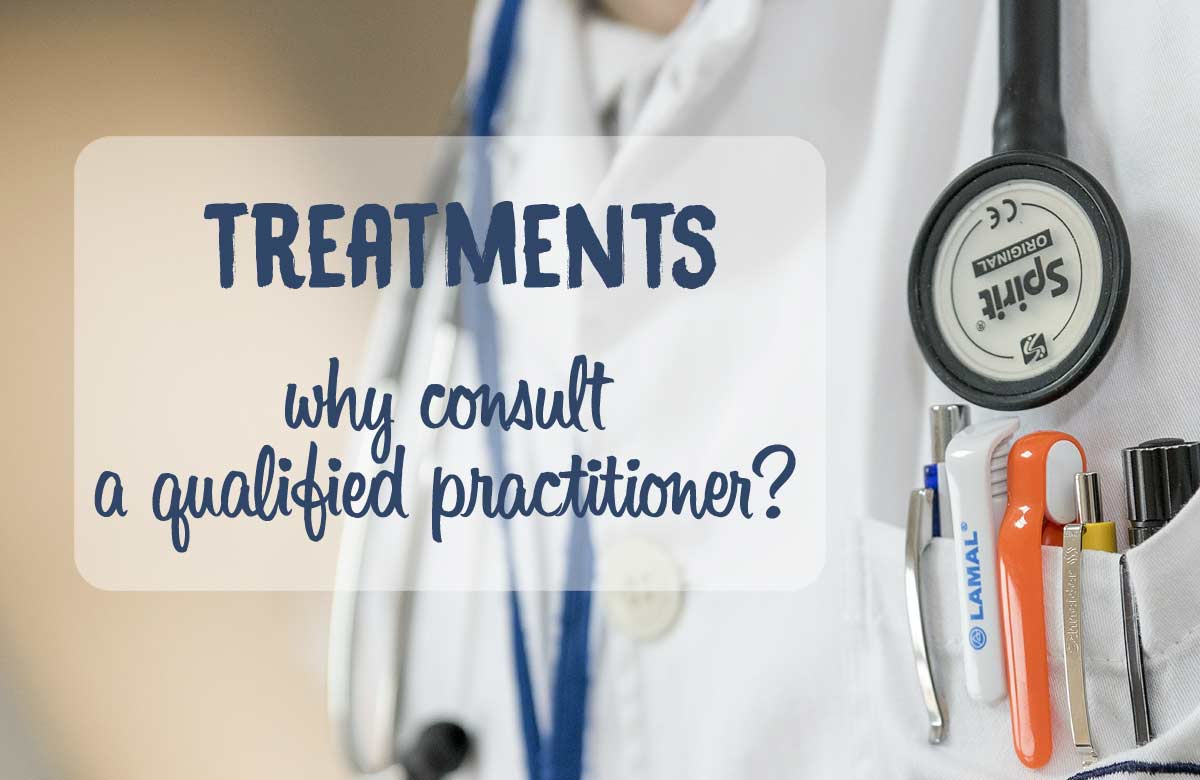 The cause of a chronic skin disease can be very complex; this is why it is paramount to seek the advice of a qualified practitioner to get a proper diagnosis and an appropriate treatment to heal your skin. If you don't address the underlying cause, it means that you have to suppress the symptoms continually, rather than putting an end to them once and for all.
There are lots of doctors who treat skin conditions, and it is sometimes difficult to know where to start. Naturopathic Doctors, Psychodermatologists, and qualified Holistic Nutritionists are among the best practitioners to help you heal in a natural way.
The importance of getting the right diagnosis
To treat a skin problem effectively, you first need to diagnose the problem. This makes perfect sense, except that many dermatological symptoms have no clear diagnosis.
But a rigorously trained doctor is likely to give a much more accurate diagnosis than a web user seeking answers from the internet.
This is why the information provided on Optiderma.com is for educational and informational purposes only. It should not be used as a substitute for the advice of an appropriately qualified practitioner. You need to follow a specific and appropriate treatment to heal YOUR skin.
Be very careful with self-diagnosing as you may be missing something that you cannot see. Beneficial treatment is impossible without a proper diagnosis.
If you want to heal your skin condition, it is highly recommended that you see a qualified practitioner as early as possible. Once you know what the problem is, you are on the way to proper treatment!
Also, keep in mind that some skin conditions are easier to treat the earlier the treatment begins. 
Looking for doctors who treat skin conditions?
There are many different qualified practitioners you could consult: dermatologists, dieticians, homeopathic doctors, etc. Here we'll talk about naturopathy, psychodermatology and natural nutrition, that can definitely help you with your skin condition.
Naturopathic Doctors
Naturopathic medicine treats health conditions by utilizing the body's inherent ability to heal. There are a number of modalities that all naturopathic doctors are trained in: nutrition, herbal medicine, acupuncture/ Chinese medicine, homeopathy, counselling, hydrotherapy, and physical medicine. 
Naturopathic medicine does not focus on skin disease symptoms, but rather the underlying cause to encourage healing. 
Testimonials and controlled studies show that naturopathy can be very effective in treating skin conditions, such as acne, eczema, psoriasis, etc.
Treating skin conditions with naturopathy
Psychodermatologists
Did you know that the cause of a skin disease can be an emotional trauma? Some people's skin is especially emotionally reactive. In this case, seeing a psychodermatologist can be very helpful.
Psychodermatology is the interaction between mind and skin. It treats skin the way a psychotherapist treats behavior – by learning how it responds to emotional and environmental stressors and helping to moderate those responses.
Frequently treated conditions are: psoriasis, eczema, hives, genital herpes, cold sores, acne, warts, skin allergies, pain and burning sensations, hair loss and compulsive skin picking and hair pulling. 
Psychodermatologists use relaxation, meditation, hypnosis and self-hypnosis, psychotropic medications, biofeedback, and focused psychotherapy.
Certified Holistic Nutritionists
Proper nutrition is vital to healthy glowing skin. Whether you suffer from acne, eczema, dry skin or any other skin condition, our skin is directly affected by what we eat.
Often when our body develops sensitivity to something we have ingested the first place to show signs of such a reaction is the vital detox organ-our skin! Through assessing which foods you may be sensitive to and which vital foods are lacking in your diet, healthful skin can definitely be restored through nutrition and supplements.
A Registered Holistic Nutritionist will give nutritional recommendations based on your specific needs and lifestyle. 
The connection between skin and nutrition