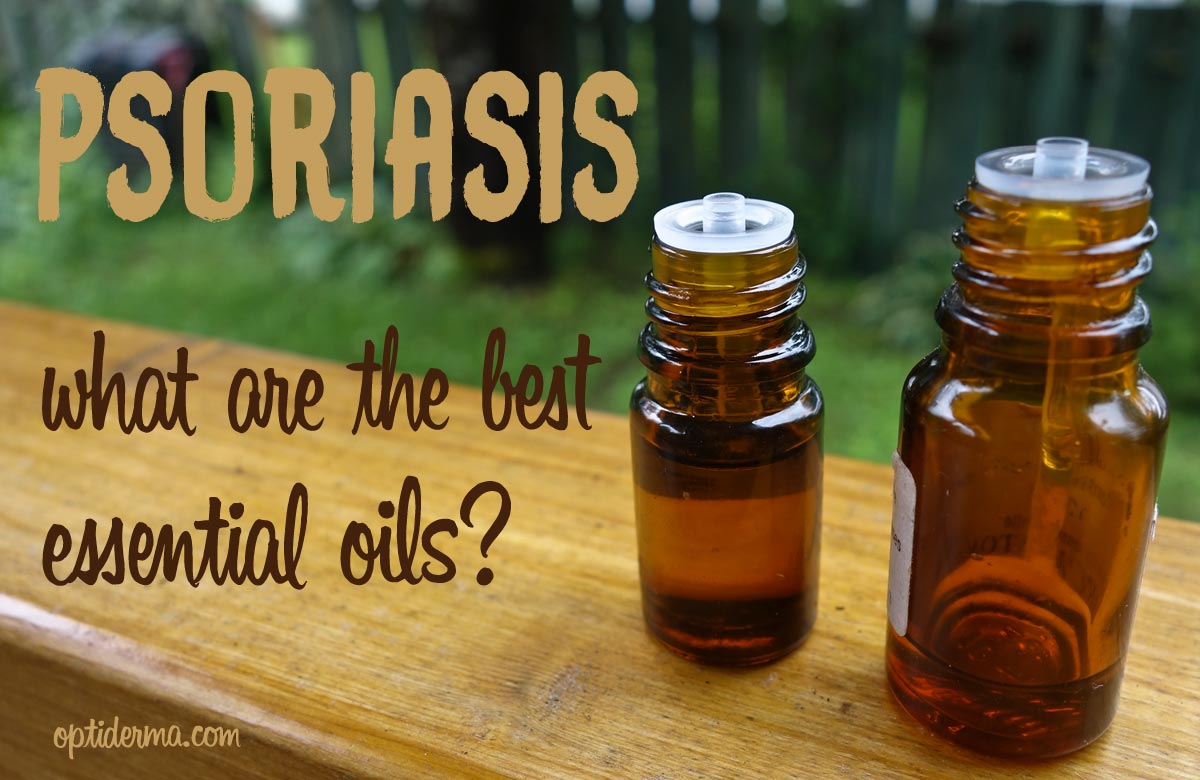 Are you looking for natural remedies to relieve the inflammation and itch of psoriasis? Are you interested in trying essential oils for psoriasis & scalp psoriasis? Well, you've come to the right place.
There are hundreds of essential oils with healing properties that can be used for psoriasis treatment:  Rosemary, Neem, Bergamot, Lavender, Clary sage, Chamomile, Geranium, Thyme and Tea tree are popular ones.
Less-known essential oils for psoriasis include Cajuput, Juniper, Melissa, Spikenard, Sandalwood, Frankincense, Benzoin, Myrrh and Rose… 
As you can see, there are lots of essential oils that can be used to treat this skin condition! Here's a selection of the best ones that I've been using for psoriasis & scalp psoriasis.
What are essential oils?
An essential oil is an aromatic liquid that contains volatile compounds obtained from plants, seeds, flowers, fruits, trees, leaves, stems, grasses and even roots! They are primarily extracted by steam distillation.
Unlike a base oil, an essential oil is not actually an oil because it doesn't contain fatty acids and is not prone to rancity. 
They are the "soul of the plant" and have been used for more than 5000 years for their spiritually, emotionally uplifting and healing properties.
The benefits of essential oils come from their antiseptic, anti-fungal, antiviral, antibacterial and anti-inflammatory properties, which make them very effective for various health issues!
Did you know that a typical essential oil contains more than 100 different chemical compounds? Each compound has a specific therapeutic quality. This is why they can help treat so many different health problems.
These oils act as natural medicine without any side effects – if they are properly used! They do not contain artificial fragrances, such as perfumes or fragrance oils.
Can you use essential oils for psoriasis?
Many scientific studies have shown numerous health benefits of essential oils for skin.  
Even if more research is needed to prove the effectiveness of essential oils for psoriasis, we already know that aromatherapy can help soothe the symptoms of this skin condition.
Psoriasis is an autoimmune disease which causes an overgrowth of skin cells. The skin becomes irritated, dry, itchy red, thick and scaly;
The exact cause is still unknown. It's attributed to many different factors, from genetics to environmental factors.
Whether the trigger of psoriasis is stress, allergy, infection, or an impaired immune system, essential oils have lots to offer.
Most of them have strong anti-inflammatory properties and are very effective for relieving inflammation associated with psoriasis. They can be great and effective alternatives to chemical skincare products.
There are a few things to consider before using essential oils for psoriasis:
It shouldn't replace the treatment you're following. In some cases, people reported great results when treating psoriasis with essential oils. But it doesn't mean that aromatherapy is a cure. It's strongly recommended that you seek the advice of an aromatherapist.
Please consult with your doctor before using essential oils as there are contraindications. For example, rosemary and thyme are contraindicated during pregnancy.
Before using an essential oil over a large area, make sure you're not allergic to it. You should test a small area of skin first.
Check this page to learn more about essential oils for skin problems.
What Works Best for Psoriasis?
What are the best essential oils for psoriasis?
There are lots of essential oils that may be used for psoriasis. Some of them are great to apply on skin, others are recommended for scalp psoriasis or to help with stress (a common trigger in psoriasis).
Here are two essential oils that can be very effective to soothe symptoms of psoriasis:
Tea tree essential oil
Thyme essential oil
Tea tree essential oil for psoriasis
Tea Tree essential oil comes from the leaves of Melaleuca tree, commonly found in Australia. This oil is used in many skincare products, and there's good reason for it.
Why is tea tree a great oil for psoriasis?
Because of its anti-bacterial, anti-fungal, anti-microbial, anti-viral, anti-inflammatory, anti-septic properties, it helps relieve itching and redness associated with psoriasis (source).
Tea tree essential oil can also help remove the dry and dead skin cells that are caused by psoriasis, and control the overproduction of skin cells.
Application: Place 3 drops of tea tree essential oil on a cotton ball and dab on lesions. It will disinfect and soothe itchy patches.
Thyme Essential Oil For Psoriasis
Thyme is a common herb. It's often used as a condiment or spice. But have you ever used thyme essential oil?
This oil has strong antiseptic, antibacterial and anti-fungal properties. It can help treat skin conditions like athlete's foot, eczema and even psoriasis.
Because of its natural anti-inflammatory properties, this essential oil can help reduce swelling and itchiness on the skin (source).
Caution: thyme essential oil is very potent and should not be used undiluted on skin or taken internally. Mix it with another carrier oil, such as coconut or jojoba oil.
What are the best essential oils for scalp psoriasis?
These two essential oils are great for use for scalp psoriasis:
Neem essential oil
Rosemary essential oil
Both oils have anti-inflammatory, antimicrobial and antibacterial properties. They help remove dandruff and reduce skin inflammation.
Neem essential oil for scalp psoriasis
Neem is a rich, thick, golden-brown base oil with a strong nutty aroma. It's derived from neem tree nuts, and it has antiseptic, antiviral, anti-fungal and antibacterial properties.
Neem essential oil can be very helpful for psoriasis, especially if the root of psoriasis is linked to candidiasis and yeast infection.
It heals lesions and scaling, and soothes the irritation. It's also a great alternative to steroids (source).
Neem is excellent for use in antidandruff treatments and for scalp psoriasis. You sometimes find this oil in commercial shampoos that are specifically designed for scalp psoriasis. It helps relieve scalp irritations and itching.
How to use it? It's best to dilute neem essential oil
with coconut oil or almond oil to avoid irritation if your skin is sensitive (check this recipe). Also mix in a few drops of lavender essential oil to make it smell better!
Rosemary essential oil For scalp psoriasis
Rosemary essential oil is often used in bath or massage oils for its cell regenerating and antiseptic properties.
It has powerful anti-inflammatory qualities, which help calm inflammation and soothe the skin. Rosemary essential oil also has antimicrobial properties, which prevent the build-up of bacteria on the skin.
Rosemary essential oil is very beneficial for dry and flaky scalps. Regular massaging of the scalp with rosemary oil nourishes the scalp. This oil is often used in shampoos because it helps remove dandruff (source).
Rosemary essential oil for scalp psoriasis: 
Try this combination of oils; it will help relieve dryness and inflammation of the scalp.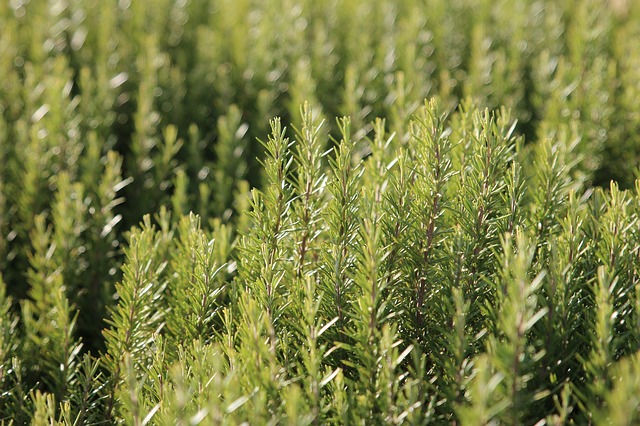 Which essential oils can be used to relieve stress and anxiety?
As you probably already know, anxiety is a common problem among psoriasis sufferers and it often triggers flares. Stress usually makes psoriasis worse, and psoriasis makes you stressed.
Research has shown that treating stress with essential oils is effective, and minimal risks are involved compared to drugs. 
If you feel like anxiety triggers psoriasis, these essential oils can help a lot:
Geranium essential oil
Spikenard essential oil
Lavender essential oil
Geranium oil for Psoriasis
The oil is extracted from the leaves and stalks of the Pelargonium graveolens plant. The fragrance is both fruity and earthy.
Geranium oil is a great oil to relieve stress!
If you're interested in trying aromatherapy to help deal with anxiety, you can start out by using geranium essential oil.
It has a balancing effect and is also useful for hormonal imbalances. It's said to bring balance to the endocrine system as a whole.
In addition, geranium essential oil improves circulation and reduces inflammation. In the case of psoriasis, geranium is very beneficial because It also promotes the regeneration of healthy cells.
Skincare recipe using geranium essential oil: 
You'll need beeswax, olive oil, coconut oil, honey, neem essential oil & geranium essential oil. Research shows that these ingredients, when combined together, may even decrease the need for corticosteroids! Try the recipe (it's my favorite recipe for psoriasis)!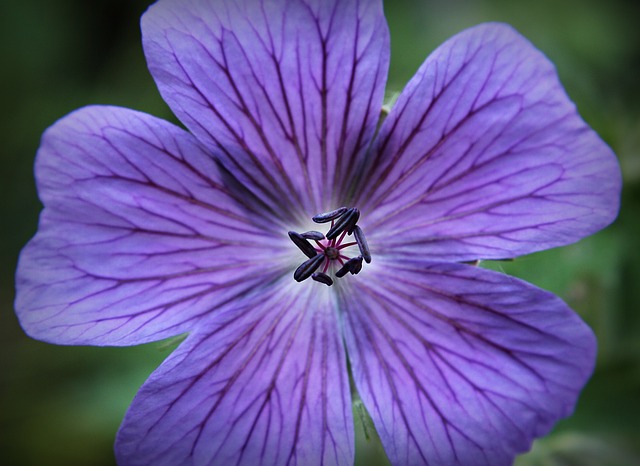 Spikenard essential oil for psoriasis
This essential oil is lesser-known, although it's very famous on the Indian Subcontinent where it's widely used in herbal medicines. This plant is native to Nepal and is called Nardostachys Jatamansi in botanical terminology. 
What are the qualities of spikenard essential oil? This oil has a calming effect and is used to treat anxiety issues. In aromatherapy, this oil is used for inducing harmony and mental peace!
As explained in the section about geranium essential oil, stress is one of the triggers for a psoriasis flare-up. Spikenard can be very helpful if you feel like you have trouble to deal with anxiety.
In addition, its antibacterial and anti-fungal properties make it an effective natural remedy for skin conditions that are caused by bacterial infection. It can be applied directly to the skin to treat psoriasis (source).
How to use Spikenard essential oil for psoriasis? 
Here's a recipe using nard essential oil
 for scalp psoriasis.
Lavender essential oil for psoriasis
Lavender is one of the most gentle, universally useful essential oils.  
It's another great essential oil to relieve anxiety and stress! This oil helps eliminate nervous tension and is known for its calming and relaxing effect on the nervous system. Studies show lavender essential oil decreases mental stress and increase cognitive function.
This essential oil can also be used externally on lesions. It disinfects skin! Did you know that the Latin name of lavender is Lavare, which means "to wash"? This comes from its "clean" aroma.
Lavender essential oil also has anti-inflammatory properties. It helps soothe redness and pain associated with psoriasis, and reduce dry, scaly skin patches (source).
A great recipe for scalp psoriasis: 
This skincare recipe contains soothing oils – including lavender essential oil – and other natural remedies that can be applied on scalp several times a day. Lavender essential oil can also be used neat, or undiluted on the skin. Caution: Pregnant and breastfeeding women should avoid using lavender essential oil. Also, lavender essential oil should never be ingested!
If you're looking for other ways to use lavender essential oil, check this video!
Which oils to use to moisturize skin?
Moisturizing oils, such as almond or calendula oils, are very good for psoriasis.
My favourite choice is coconut oil. You can apply organic extra virgin coconut oil
 abundantly and several times a day. Coconut oil smells great and it's also antibacterial.
Calendula essential oil can also be very helpful in controlling the symptoms of psoriasis. The oil is a clinically recognized anti-inflammatory.
The ideal time to apply moisturizing oils is just after your shower or bath, when your skin is still a little bit wet. It will help your skin absorb the nutrients.
Also, don't try to scrape the flakes if they cannot be easily removed. Jojoba oil
or castor oil
are good remedies to help soften the scales on your skin.
Jojoba oil is also one of my favorite base oils because it penetrates well, leaving no oily residue. In addition, it doesn't turn rancid and requires no refrigeration. It's an excellent conditioner for hair, scalp, skin and is an all-purpose skin lubricant.
TIP: I sometimes find it difficult not to scratch my skin, but when I do, it really worsens my condition. If the itch is unbearable, I recommend that you apply one of the carrier oil mentioned above mixed with a few drops of your choice of essential oils for psoriasis. It's easy to do and very effective!
Can you take essential oils orally to treat psoriasis?
Essential oils are an extremely concentrated combination of chemical constituents. When taken internally, they can have amazing benefits. But they can also have adverse effects if they are not used properly.
Always keep in mind that "natural" doesn't automatically mean safe (source).
Ingestion should be done with the guidance of a certified aromatherapy. Be aware that taking essential oils internally on a daily basis may damage the liver, kidneys, stomach, and intestines. 
Conclusion
If you haven't already considered essential oils to soothe the symptoms of psoriasis, you may want to give them a try!
There are many skincare products that claim to treat psoriasis. But these creams are usually expensive and most of them don't work very well. Read this post about the natural products I recommend for psoriasis.
Why not make your own skincare products (here's a great anti-inflammatory recipe) and choose natural ingredients and essential oils that work for your skin?
Most recipes are easy to make, and you can choose the ingredients (and the quality of ingredients) you want to use.
Just add your favourite essential oils for psoriasis in the mix and you'll create the perfect cream for your skin.
If you've ever tried lavender, rosemary, neem, spikenard, geranium or tea tree essential oil for psoriasis, don't hesitate to leave a comment below to share your experience. Are there any other essential oils you would like to recommend? If you like this content, feel free to share the image below on social media!