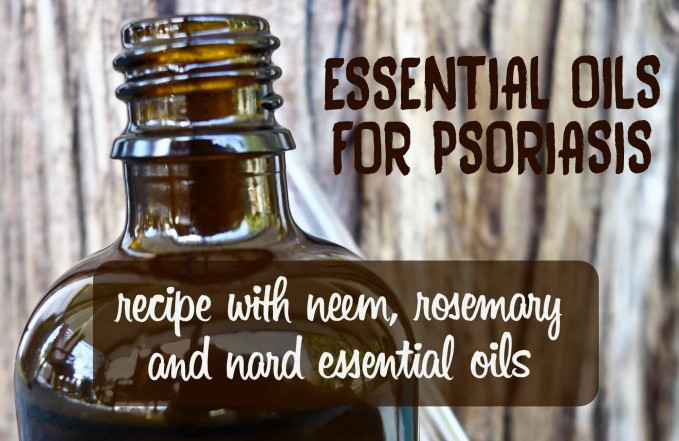 Read this before you start this recipe »
Always educate yourself about properties and contraindications of essential oils you are going to use.
Be sure you are not allergic to any ingredient before applying it on your body. First apply a dab on your wrist for example, and wait 24 hours to see if any irritation occurs.
Make sure you buy the pure base ingredients and choose ingredients that have the most beneficial nutrients.
Always dilute an essential oil in a base oil unless you are sure it is safe to use it neat.
If you can afford, spend a little more on high quality and organic oils. This will insure no unnecessary chemicals are applied to your skin.
I'd like to share with you a recipe for scalp psoriasis I currently use to soothe the symptoms of inflammation and itchiness on my scalp. I use neem, rosemary and nard essential oils for scalp psoriasis. It's very easy to make and will only take you a few minutes of your time…
Neem essential oil
Neem essential oil helps with scaling. It soothes irritation and is antibacterial. It's actually a great alternative to steroids and works well on psoriasis lesions. The only drawback is that neem oil has a garlic-nutty smell so don't put too much of it. Otherwise you'll stop using the oil or your partner will ask you to sleep in another bedroom!
The Benefits of Neem Oil for Psoriasis
Rosemary essential oil
This is my favourite essential oil. I just love the smell. Rosemary essential oil is one of the best essential oils for scalp psoriasis. It's not used in skin care as extensively as it's used in hair care, but it does have antimicrobial and antiseptic qualities that make it beneficial for psoriasis. It helps in toning your skin and relieving dryness. 
SpikeNard essential oil
My sister who is a massage therapist recommended it to me last year. It's great especially for scalp psoriasis. Originated from the Himalayas, nard
 has been used for thousands of years in Ayurvedic and Nepalese medicine. It's soothing and relaxing.
What's my recipe?
I've been using this oil mix for a few months (on both psoriasis lesions on my body and scalp psoriasis). Even if it's not a cure, it seems like it's working really well for me. I'm still in the process of improving the recipe. If you try it, please send me your feedback!
Here's the recipe I came up with. The choice of ingredients are based on studies and information I've read about, as well as my own experience:
Carrier oils: calendula and olive oil
1/2 calendula oil
1/2 extra-virgin olive oil
Other carrier oils that you may also try include avocado, jojoba, sesame and wheatgerm oils. These are great oils for psoriasis.
Essential oils for scalp psoriasis: neem, rosemary and spikenard
Optional: honey and apple cider vinegar
I also sometimes add a little bit of honey and apple cider vinegar. Once again, it depends on your skin and it's best to experiment. Some people have great results with apple cider vinegar, but in some cases it may irritate the skin.
directions:
Add the carrier oils into a small glass bottle with a dropper. If you want to add honey and apple cider vinegar, start with only a small amount. If you put too much honey, the oil will be too sticky. If you put too much apple cider vinegar, the smell may be too strong…
Add the essential oils for scalp psoriasis.
Put the lid on and gently shake the bottle to mix the ingredients.
It's a very simple recipe that doesn't require lots of skills or ingredients.
Try it and tell us how it goes for you! Please feel free to leave a comment about this recipe and let us know what essential oils for scalp psoriasis work best for you.
There are other recipes for psoriasis I shared on Optiderma.com. You may want to try these two recipes too: