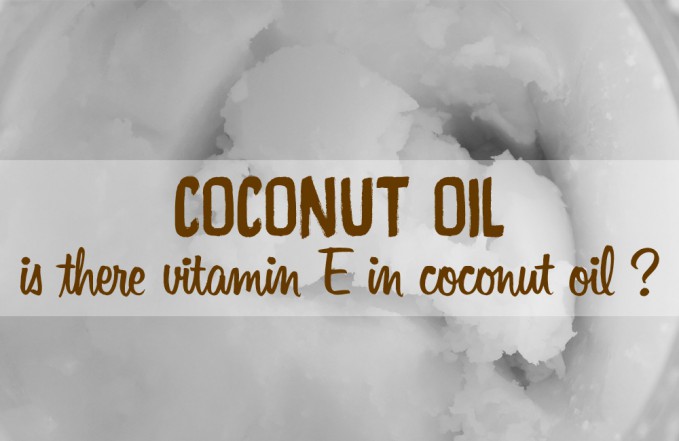 People usually think that there is lots of vitamin E in coconut oil. Is that true? Coconut oil is known to be very nourishing to the skin and is especially useful in protecting the skin from the aging effects. As vitamin E is a strong antioxidant, does it mean that coconut oil contains vitamin E? Let's see if coconut oil a good source of vitamin E and why coconut oil is so beneficial for the skin.
Coconut oil contains very small amounts of vitamin E
In a very interesting article entitled "Common Misconceptions about the Nutritional Value of Coconut Oil: Exposing Three Common Myths", Health Impact News Daily Editor Brian Shilhavy says:
One of the most propagated myths regarding coconut oil we are seeing on the Internet today is that it is a good source of Vitamin E. This is simply not true – not even in Virgin Coconut Oil. A search in the USDA database for coconut oil will confirm this fact, and we also tested Virgin Coconut Oil in the lab to determine its nutritional qualities, and we found very small amounts of Vitamin E. We suspect that people are saying this because coconut oil is known to be very nourishing to the skin."  - Health Impact News Daily Editor Brian Shilhavy
Vitamin E is added to coconut oil
According to NutritionData, there is often added vitamin E in coconut oil. Why? to improve absorption of vitamin E. When coconut oil is combined with a good source of Vitamin E, the Vitamin E is more readily absorbed by the skin and transferred to organs such as the heart and liver.
Is coconut milk healthy? (Optiderma.com)
Coconut oil may reduce the need of vitamin E
Do you know that coconut oil may reduce our need for vitamin E? Physiologist and biochemist Ray Peat, Ph.D. considers coconut oil to be an antioxidant, due to its stability and resistance to oxidation and free radical formation. According to him, it reduces our need for the antioxidant protection of vitamin E.
What makes coconut oil unique for skin?
If there is no natural vitamin E in coconut oil, what is coconut oil good for? The answer is free-radicals. Virgin coconut oil is especially useful in fighting free-radicals, as it is an unrefined oil and hasn't been stripped of any of its natural components through the refining process. Most lotions use a highly refined vegetable oil devoid of all natural protective antioxidants.
Why are antioxidants important for your skin? The only way our body has to fight free-radicals that damages molecules is with antioxidants. This is why it's good to have plenty of antioxidants in our cells and tissues to protect our skin.
Also, many experts believe coconut oil can help restore more youthful-looking skin because of its small molecular structure which allows for easy absorption through the skin. In fact, it makes an ideal ointment for the relief of dry, rough and wrinkled skin, and helps to reduce the appearance of fine lines and wrinkles by helping to keep connective tissues strong and supple.
Even if there isn't much vitamin E in coconut oil, pure virgin coconut oil is ideal for skincare and can be used as a skin moisturizer, helping with dry skin, and it also helps reduce protein loss when used in hair.
Oil pulling with coconut oil: how often should it be done? (Optiderma.com)