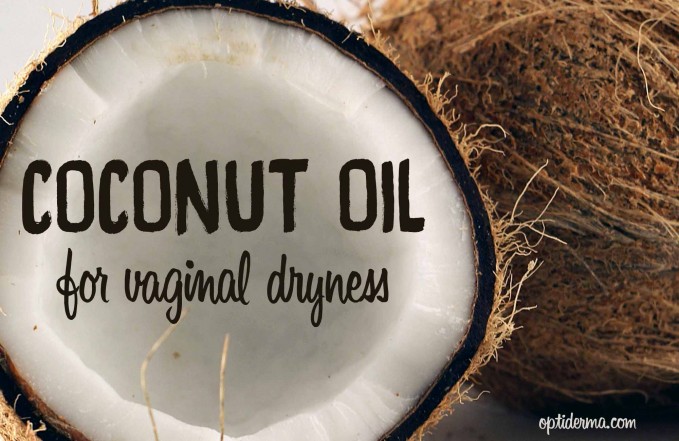 Are you one of the thousands of women suffering from vaginal dryness? Vaginal dryness is more than an annoyance; it can cause intense itchiness and pain that creeps up at the most unfortunate times. I know some people who have experienced dryness so severe that it has kept them up at night.
If you haven't tried coconut oil yet, you should definitively give it a try. Coconut oil has the ability to safely treat vaginal dryness. It doesn't contain harmful chemicals, it doesn't cause irritation and, most importantly, it works!
Because of its antibacterial properties, it's a great remedy to use for areas that are prone to yeast infections. This is one of the reasons why many people use coconut oil for vaginal dryness, especially if this is related to yeast overgrowth.
Possible causes of vaginal dryness
Vaginal dryness is most often caused because of low estrogen levels, which typically occur after a change in your hormones. According to the director of Sexual Medicine San Diego, Irwin Goldstein, MD,
The vagina needs estrogen for health, and a reduction in estrogen could be the result of menopause, childbirth, breastfeeding, perimenopause or physiological problems (source).
Medical treatments, such as radiation and chemotherapy, can also lead to low estrogen levels (source).
Other causes of vaginal dryness includes medications that contain antihistamines, which can cause a drying effect in your body, and irritants like soaps, dyes, perfumes and hygiene products.
Vaginal dryness is actually very common. Did you know that most women will experience some degree of vaginal dryness in their lifetime – probably up to 70% of post-menopausal women and up to 15% of premenopausal women? 
Vaginal dryness and itching can also occur around the time of menstruation; read this page to understand why it may happen before, during or after your period, and what you can do to treat it.
Coconut oil to the rescue
Besides being an effective treatment for vaginal dryness, coconut oil is natural, which means you won't be subjecting your body to harmful toxins.
The sad truth is, most commercially-available products used to treat dryness contain unnecessary ingredients that can cause more harm than good. Coconut oil, however, doesn't contain these irritants and will safely and more effectively treat the dryness.
This oil also has antifungal and antibacterial properties (source), which means it can help to naturally prevent yeast infections.
Coconut oil for vaginal dryness: which brand to choose?
Be careful when choosing coconut oil as some are cut with other oils, or are cosmetically altered with potentially toxic chemicals.
Avoid using "RBD Coconut Oil", which stands for Refined, Bleached and Deodorized. The refining process strips away some of the nutrients (source).
Instead, opt for organic virgin (or extra virgin) coconut oil derived from the meat of mature coconuts. No chemicals are used to extract the oil, which is what you want. These types are also higher in antioxidants.
My favorite brand is Nutiva Organic Virgin Coconut Oil. But there are lots of other high-quality brands, such as Nature's Way or Garden of Life.
How to use coconut oil for vaginal dryness?
Coconut oil will go to work quickly so you don't have to wait to experience relief from the dryness and pain.
Scoop some of the coconut oil out of them jar and into your clean hands.
Let the oil warm a bit before massaging the oil into the affected areas.
Because it is completely safe to use, you can apply coconut oil to the affected vaginal areas as many times as necessary.
The coconut oil will moisturize and lubricate your vaginal area without the potential for side effects, such as irritation.
You can also incorporate coconut oil into your diet for additional benefits. It's a very potent candida killer if you're prone to yeast infection. In this post, you'll learn about the best antifungal foods.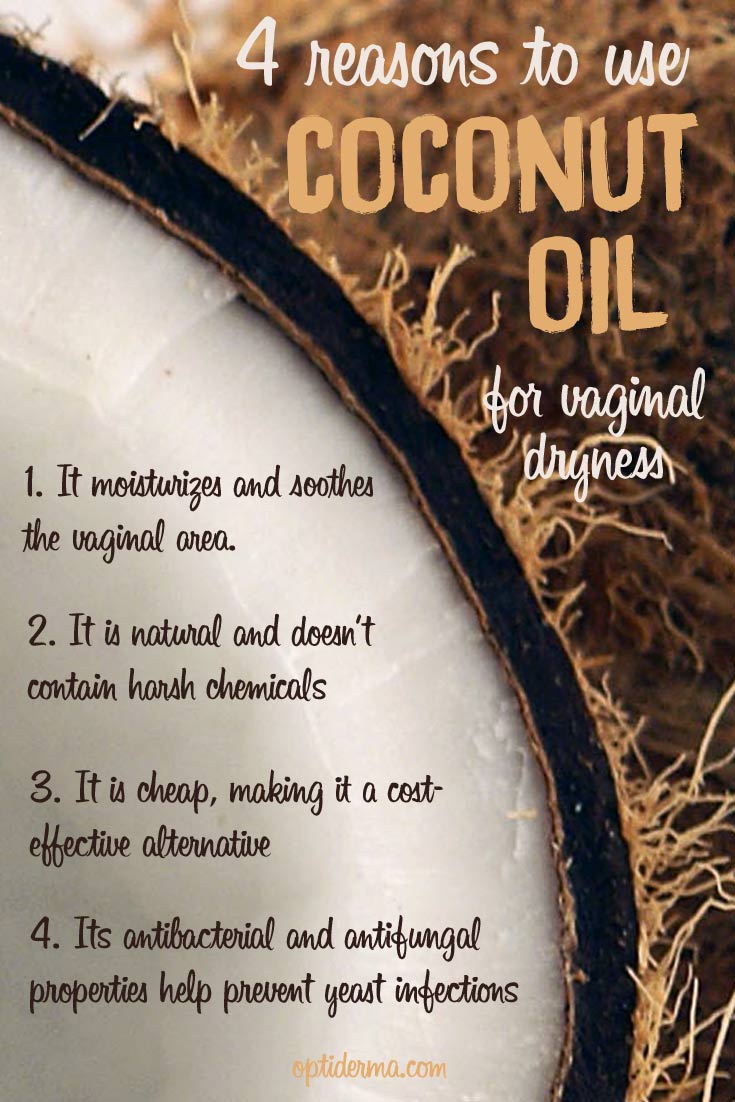 Considerations: While coconut oil will relieve vaginal dryness, you must determine what is causing the problem in the first place. Using the oil without addressing the problem will only keep the dryness coming back.
Have you had problems with vaginal dryness? Share your experience by commenting below! And if you want to know more about the possible causes of vaginal dryness, watch this video with Gynecologist Adelaide Nardone:
The Best Creams to Soothe Vaginal Itching