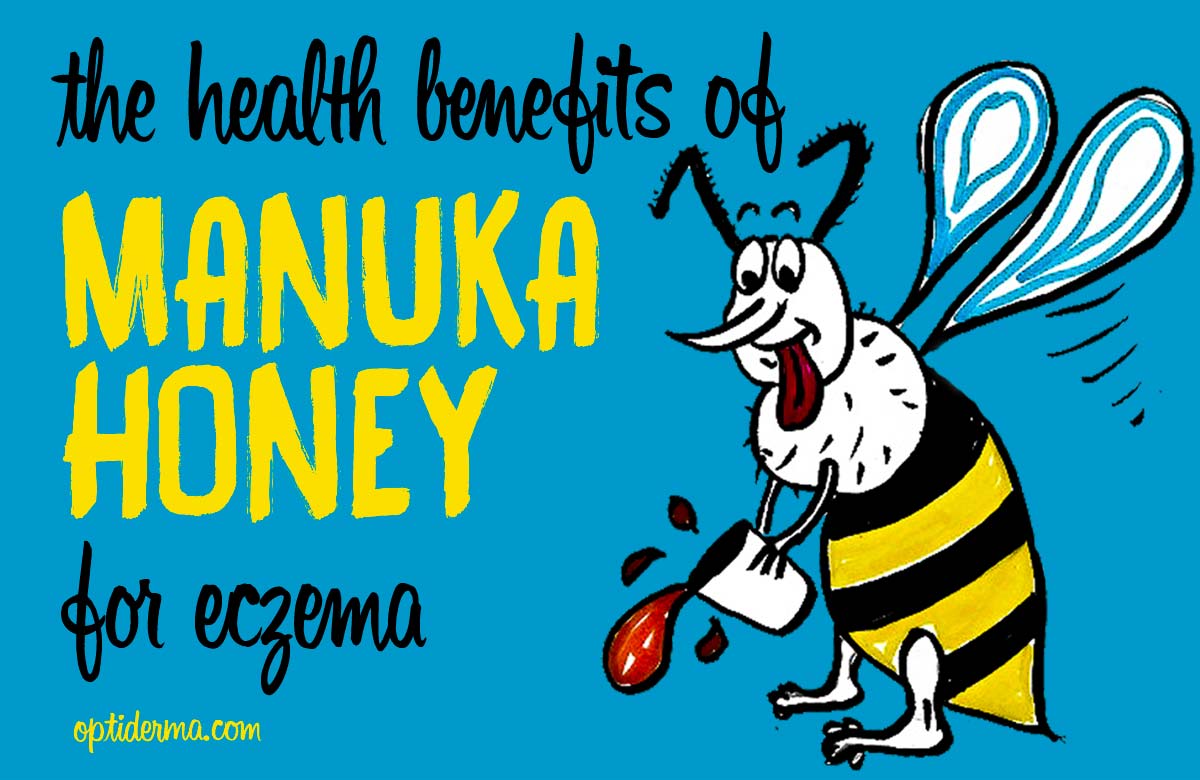 In my quest to find effective natural remedies for eczema, I stumbled upon an unusual candidate for the treatment of eczema. Honey has been used for centuries to treat ailments ranging from flu to infected wounds. However, Manuka honey stood out as a great remedy for alleviating the symptoms of eczema. Have you ever tried Manuka honey for eczema?
Manuka honey originates from New Zealand. It is derived from the bees are commonly found pollinating the Manuka bush. What makes it stand out from regular honey is the fact that it has a higher level of enzymes according to a research conducted at the research center of the New Zealand University of Waikato in 1981.
As such, I took it upon myself to dig deeper into the medical advantages of Manuka honey, specifically how it helps relieve the symptoms of eczema. Here is what I found out about the effectiveness of Manuka honey for eczema treatment.
Why use Manuka honey for eczema?
One of the main reasons why Manuka honey is a key ingredient in eczema creams is because of its antibacterial properties. There's a strong antibacterial component in Manuka honey, which is called methylglyoxal (MG). 
Research has been conducted on Manuka honey, which has been demonstrated to be effective against many human pathogens, including Escherichia coli (E. coli), Enterobacter aerogenes, Salmonella typhimurium, S. aureus (source).
Many bacterial infections can be caused by a breach in the skin. People suffering from eczema are more susceptible to these bacterial infections due to their weakened skin barrier. One of the biggest risks associated with eczema is having topical infections like Staph infections due to the skin's increased vulnerability. 
As such, using Manuka honey can enable the skin to retain its integrity and boost the general immunity, thanks to its immunomodulatory properties. 
The topical application of Manuka honey not only has healing benefits to your skin, but it also helps to maintain a good balance of bacteria on the skin.
Its viscous nature is ideal for moisture retention
Chronic skin conditions such as eczema are characterized by dry or scaly skin that is usually accompanied by flaking. General moisturizers often fall short in maintaining the skin's moisture over extended periods of time.
Manuka honey, however, provides the perfect remedy against dry skin due to its thick and viscous nature.
Manuka Honey can speed the healing process
One of the primary uses of honey since time immemorial has been its application on wounds to facilitate the healing process.
Manuka honey is therefore perfect for people suffering from eczema as it helps to heal symptoms such as broken or cracked skin, painful red spots and oozing sores.
For anyone suffering from chronic skin conditions, applying Manuka honey on the skin even if it is only for its healing properties can help you avoid a lot of pain.
According to experiments conducted to test the healing properties of Manuka honey, topical application to the affected areas showed positive results such as the reduction of the wound size in 8 out of 10 patients after just 2 weeks (source).
Manuka Honey is a great anti-inflammatory
Anyone suffering from eczema will tell you that skin inflammation is a major problem that he/she has to deal with.
Manuka honey contains enzymes that make it a powerful anti-inflammatory especially in damaged skin. 
Direct application to the inflamed areas results in great relief from pain within a short period of time.
This property is what makes it useful in dressing burns, ulcers and wounds. (source). Patients under this medication have experienced a decreased inflammatory response after topical application of the substance.
If you're interested in using Manuka honey for wounds, you should read this article: Can Manuka Honey Heal Wounds?
Is Manuka honey more potent than other types of honey?
There is a large variation in the healing and antibacterial properties of honeys. This is due to variation in sources of nectar, which has an impact on the antimicrobial activity of honey. 
Not all honey is the same. Some may be 100 times more potent than others! Manuka honey has really strong antibacterial properties because it contains more methylglyoxal than other honeys. MG is found in most types of honey, but usually only in small quantities.
The therapeutic potential of the Manuka honey also depends on its Unique Manuka Factor, which is a global standard that is used to measure the strength of its antibacterial properties. 
Manuka honey with a UMF of 10 and above is recommended to support healing and for use as a topical barrier against infections (source).

How to use manuka honey for eczema?
It is recommended that you apply it topically on the affected areas, let it stay for a short while then wash it off using mild soap and water (source). When the procedure is repeated daily, it results in a smoother and moister skin.
It can also be mixed with other ingredients such as Shea Butter to enhance its healing properties.
A study shows that topical application of honey, beeswax and olive oil mixture mixture appears useful in the management of dermatitis and psoriasis vulgaris (source).
There are a number of healing concoctions that can be made from Manuka honey when it is combined with substances such as olive oil and organic beeswax. 
If you're interested in making your own skincare products, try this easy recipe to make an anti-inflammatory cream that contains honey, beeswax and olive oil. For best results, use Manuka honey in this recipe! You can also watch the video below for more ideas on how to use Manuka honey for eczema.
If you prefer the convenience of a commercial cream, there are two products I recommend:
Both creams contain healing ingredients, such as Manuka honey, aloe vera, shea butter, coconut Oil and hemp seed oil. You can read reviews and purchase these products at amazon.com.
Alternatively, you could use Manuka essential oil which also has very strong anti-inflammatory and anti-bacterial properties.
What about including manuka honey in your diet? 
One might benefit more from the use of Manuka honey in battling the symptoms of eczema by supplementing it with other medications. However, consult your doctor first to see if Manuka honey is recommended for you.
You might already know that the gut health is closely linked to skin health. Manuka honey can very helpful in case of bacteria-related disorders and gut imbalances.
1 tablespoon of Manuka honey daily may help you with eczema, especially if the cause of eczema is related to a gut problem.
If you decide to include Manuka honey in your diet, consume it in moderation!
Conclusion
Should you try Manuka honey for eczema? The choice is yours!
At this time there is no scientific evidence that proves the effectiveness of Manuka honey for eczema. But many testimonials on the internet claim that Manuka honey works really well for eczema and acne. In fact, Manuka honey is commonly used in face washes.
Manuka honey has very strong antimicrobial and antibacterial properties, and many studies show it speeds up the healing process. It helps with immunity and inflammation, two things associated with eczema.
Why not give it a try?
If you want to purchase pure Manuka honey, Dr. Axe recommends this one: Happy Valley UMF 15+ Manuka Honey
. Here are other brands of manuka honey I recommend for their therapeutic benefits.
Caution
People allergic to bees should use Manuka honey with caution due to possible allergic side effects. Also, you should avoid Manuka honey if you are sensitive to sugars. 
Have you ever used Manuka honey for eczema? Feel free to leave your ideas and suggestions in the comment section below!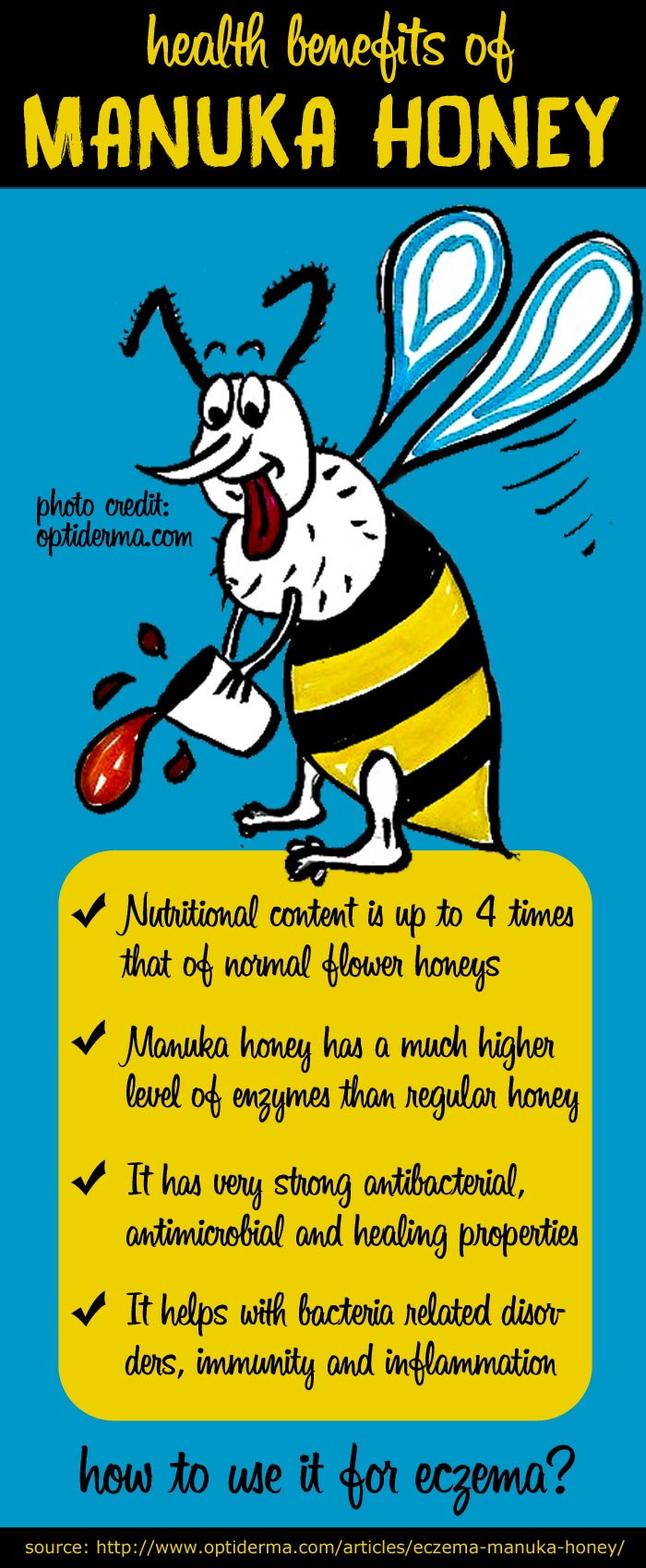 The Benefits of Apple Cider Vinegar for Dyshidrotic Eczema